The Finnish Food Authority is headed by its Director General.
The Finnish Food Authority contains three departments and two operating entities:
The Rural Areas Division acts as the paying agency of Finland and is responsible for the distribution of the funds provided by the subsidy systems and the mainland Finland rural development programme and for managing and monitoring that the funds are used in the appropriate manner.
The Food Chain Division is responsible for monitoring the safety and quality of food-related production items used in agriculture and forestry – seeds, animal feeds, fertiliser products, plant propagation materials, forest reproductive material and plant protection products – as well as the health and wellbeing of animals and plants.
The Laboratory and Research Division is responsible for animal and plant disease diagnostics; laboratory studies related to food, feeds, fertilisers, plant protection products and plants; and the laboratory analysis of supervision and monitoring samples as well as the related reference laboratory activities and risk assessment procedures. The division also conducts scientific research and maintains the necessary national research infrastructure in the fields that it operates in.
The Internal Services is responsible for all HR and financial matters, the user services in offices as well as document management and data protection, legal services and procurement activities.
The Digital Services is responsible for the centralised steering and coordination of all information management-related matters, the production of the development and maintenance work for the Finnish Food Authority's information systems, as well as all ICT-related procurements and data security. In addition, the unit is responsible for the IT services produced for the Finnish Food Authority's external customers.
The internal audit unit and headquarters operate directly under the Director General.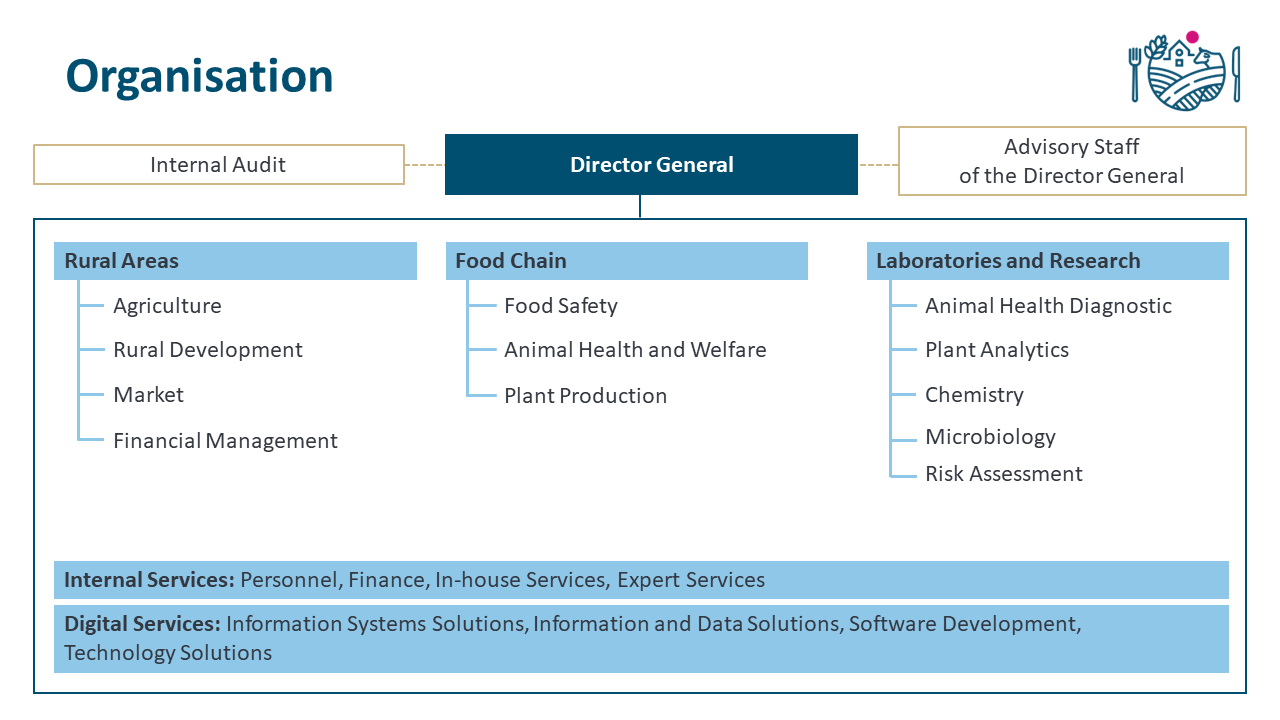 In addition, the Food Market Ombudsman and the Animal Welfare Ombudsman have been placed in the Finnish Food Authority.