When imported from outside the EU, all live plants, seeds, cut flowers and almost all fresh vegetables must have a phytosanitary certificate. In practice, a tourist cannot obtain one, so you cannot import these products as personal luggage from outside the EU into Finland. The reason for these restrictions is that plant diseases and pests spreading with plants and fresh plant products may spread to nature and plant production and cause damage.
Importing from another EU country is usually permitted. There are restrictions only for the fire blight host plants and seed potatoes.
Read more detailed instructions below for imports from the EU and from non-EU countries.
Importing from another EU country
You can import potted plants, summer flowers, green plants and fresh fruit, berries, vegetables, herbs, root vegetables and cut flowers for your own use without restrictions. You may also import edible mushrooms.
If you buy seedlings for planting in the open air, buy them from a professional garden shop. They sell products from controlled production, meaning that the seedlings have been inspected for plant diseases and pests. Seedlings grown by amateur growers may be for sale at markets and fairs, but they involve a greater risk of a plant disease or pest spreading to your garden.
Note the stricter restrictions applying to fire blight host plants and seed potatoes.
Fire blight host plants (e.g., apple trees, pear trees and cotoneasters) may be imported to Finland only when the following marking has been attached to the plant: Plant Passport - PZ Erwinia amylovora.


This marking is the protected zone marking for fire blight and is always required when fire blight host plants are imported into Finland. Only other protected zones sell plants with this marking. For this reason, it is not permitted to buy fire blight host plants from most EU countries for importing them into Finland.


You must always obtain seed potatoes from Finland. Seed potatoes also have requirements regarding protective zones, and potatoes meeting Finland's requirements are not sold in the other EU countries.
Importing from a non-EU country
It is not usually possible to import live plants, seeds for sowing, fresh vegetables and fresh cut flowers as luggage. This is because they require a phytosanitary certificate when imported from outside the EU. It is usually not possible to obtains a phytosanitary certificate while travelling, so it is advisable to not buy these objects in your travel destination.
A phytosanitary certificate is required for the following: all live plants (potted plants, green plants, seedlings, etc.), propagation material (seeds, cuttings, grafts, tubers, bulbs, etc.), cut flowers, fresh vegetables (fruit, berries, green vegetables, root vegetables and herbs).
However, you may import the following fruit without a phytosanitary certificate: pineapple, banana, durian, coconut, dates.
See the instructions here (in Finnish), if you intend to import any of the goods listed above with a phytosanitary certificate.
You will also need a phytosanitary certificate when ordering online and often also a phytosanitary inspection when the consignment arrives in Finland.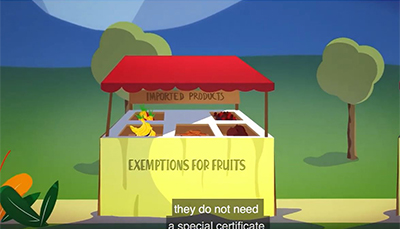 Watch a video on the phytosanitary rules for passengers (duration 1:36)
What are you allowed to import from outside the EU without a phytosanitary certificate?
Without a phytosanitary certificate, you can import the following for your own use
Fresh pineapples, bananas, durians, coconuts and dates
Dried, frozen or preserved plant products or plant products that have been processed into food. For example, these include tea, coffee, dried or roasted nuts and seeds, spices, dried herbs, preserves, rice, and flours and flakes.
You may import these freely for your own use. You do not need to notify the Finnish Food Authority when you import them.
Edible mushrooms are not plants, so the phytosanitary requirements do apply to them, either.
If you are importing above mentioned plant products for business activities, read more on the Finnish Customs website.
Contact