FOODSAFETY4EU is a Horizon 2020 funded project focused to design, develop and release a multi-stakeholder platform for the future European Food Safety System (FSS). The platform will enable the food safety system actors to access efficiently resources and data, synchronize food safety research strategies, share and exchange scientific knowledge and contributions for the future EU FSS. The platform will boost interactive cooperation between food safety system actors including stakeholders and with the civil society. In addition, a European Food Safety Forum will be set up to officially consolidate the participatory process and guarantee the long-term science-policy-society interface. New digital tools, co-designed strategies and communication models will support Food Safety Authorities (FSAs), EU Agencies, policy makers, scientists and civil society in a coordinate approach, thus contributing to strengthen the EU approach to risk assessment and risk communication.
The consortium consists of a core group of 23 partners from 12 countries, and 44 other food safety actors are engaged as supporting partners.
Schedule
2020 – 2023
Funding
Horizon 2020 Research and Innovation programme (H2020-EU.3.2.2.2. – Healthy and safe foods and diets for all) under Grant Agreement No. 101000613
Project partners
Consiglio Nazionale Delle Ricerche (IT)
Ruokavirasto (Finnish Food Authority) (FI)
Universiteit Gent (BE)
Wageningen University (NL)
Vysoka Skola Chemicko-Technologicka V Praze (CZ)
Teknologian tutkimuskeskus VTT Oy (FI)
Technische Universitaet Muenchen (DE)
Agenzia Nazionale Per Le Nuove Tecnologie, L'energia e lo Sviluppo Economico Sostenibile (IT)
Institutul National De Cercetare-Dezvoltare Pentru Bioresurse Alimentare (RO)
Agence Federale Pour La Securite De La Chaine Alimentaire (BE)
Autoridade Seguranca Alimentar e Economica (PT)
Autoriteti Kombetar i Ushqimit (AL)
Instance Nationale pour la Sécurité Sanitaire et la Qualité des Produits alimentaires (TN)
Premotec GMBH (CH)
Zentrum für Soziale Innovation GMBH (AT)
Agenzia Per La Promozione Della Ricerca Europea (IT)
European Food Information Council (BE)
ISEKI-Food Association (AT)
International Life Sciences Institute European Branch AISBL (BE)
FOODDRINKEUROPE (BE)
EURO COOP AISBL (BE)
Federação Das Industrias Portuguesas Agro-Alimentares (PT)
Federation of Foods and Drinks Industries CR (CZ)
and 44 supporting partners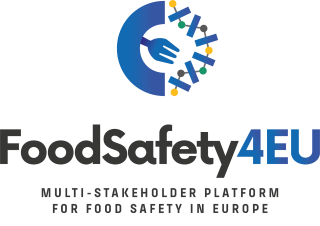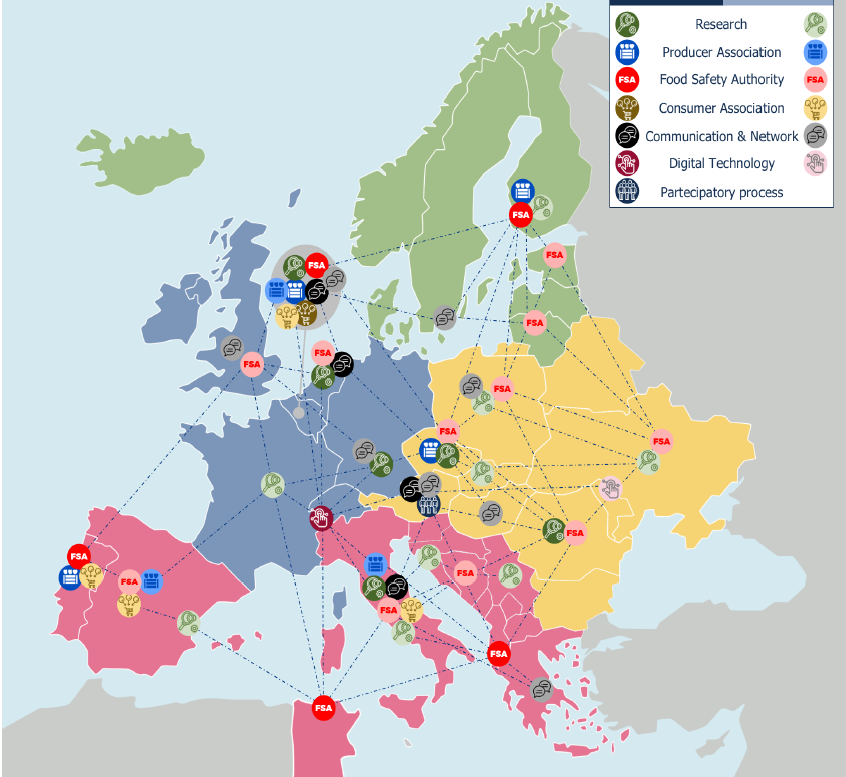 The picture shows a map of Europe and North Africa, where the partner organizations belonging to the core group and the project's support partners are marked with symbols for each country participating in the project.
More information
https://foodsafety4.eu/#welcome
A European platform will pave the way forward towards a closer collaboration in food safety
Pirkko Tuominen (pirkko.tuominen@foodauthority.fi)