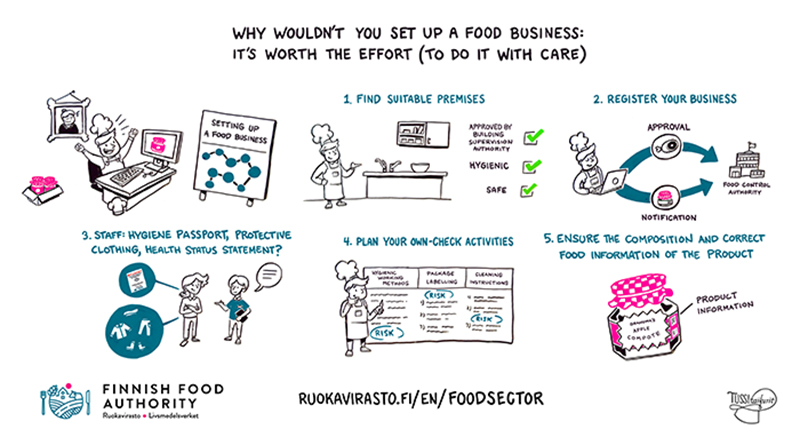 If you want to set up a business in the food sector, consider at least the following:
Find suitable premises. Once you have found suitable premises, check with municipal building control services to ensure that the premises can be used for the purpose you intend. Alternatively, check to see whether the use of the premises can be changed. Also check with the housing company to ensure that it is possible to carry out the activities you envisage in the property. It is advisable already at this stage to also contact the municipal food control authority. You can consult with the municipal food inspector to ensure the premises are definitely suitable for your intended purpose.
Plan activities to suit the premises.
Notify the local food control authority. Depending on your activities, you must either file a food establishment notification or apply for food establishment approval. Your food establishment will be registered and you will be covered by regular food control. The authorities charge both for registration and control.
Find out whether you need any other authorisations. Depending on your activities, you may require other authorisations. These may include, for example, a licence to serve alcoholic beverages, a licence to sell tobacco products or a music licence. Ask the local food control authority for advice. Also remember to have the fire and rescue authority inspect your premises if necessary.
Find out what your staff require. If your staff handle non-prepacked perishable foods, they must have a hygiene passport, protective clothing and a health status statement.
Draw up an own-check. Own check is a risk management system for your activities. In it, you plan in advance how you manage the risks in your activities and how you rectify the mistakes if necessary.
Ensure that the foods are safe and traceable.
Provide sufficient and accurate information about the foods, do not mislead. Ensure that you know what information must be provided about a product.
When you want to set up a business in the food sector, contact your local food control authority. Municipal health inspectors advise and answer questions. Municipal food control authorities inspect food establishments, labelling and food hygiene. The inspections are carried out in Finnish or Swedish.
The municipal food control authorities supervise almost all food establishments, i.e. restaurants, food processing establishments and online stores selling food.
Slaughterhouses and associated establishments are supervised by the Finnish Food Authority.
Reindeer slaughterhouses are supervised by the Regional State Administrative Agency for Lapland.
Valvira, the National Supervisory Authority for Welfare and Health, oversees premises that produce and store alcohol. Regional State Administrative Agencies supervise stores selling alcoholic beverages.