Would you like to set up an online shop that sells foodstuffs? Are you planning to sell foods on a website, on social media or by telephone? This website provides instructions for getting started.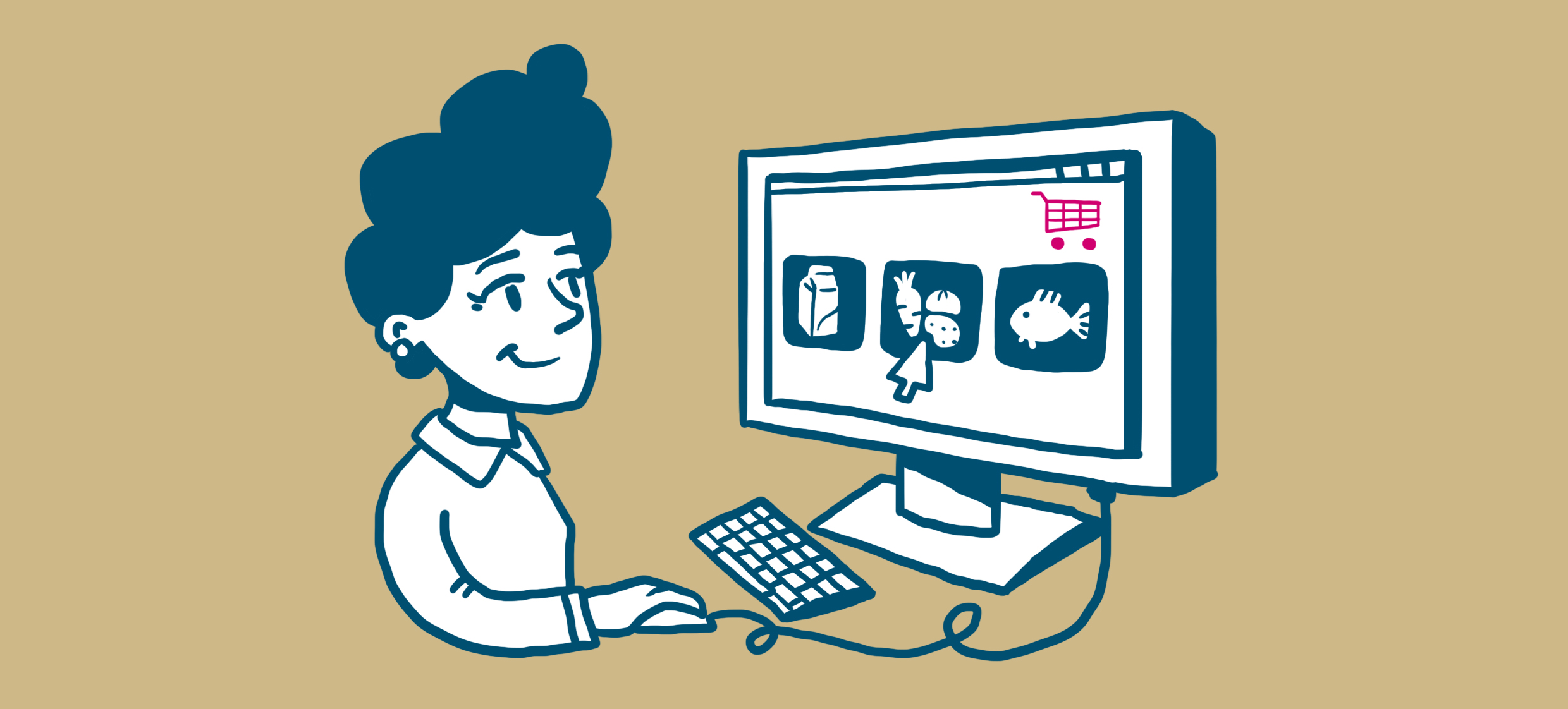 Image: Tussitaikurit Oy
What does distance selling mean?
Distance selling means any type of sales activity in which the seller and the buyer conclude the purchase agreement without meeting face to face. Such methods of distance selling include
sales on the internet, such as e-commerce
sales on mobile applications
sales on social media, such as REKO sales on Facebook and other channels
mail order sales
orders accepted by phone
text messaging
order forms in newspapers, magazines and sales flyers.
When you set up an online shop selling foods, or use other forms of distance selling in your food business, you will be considered a food business operator. Please note that you will be considered a food business operator even if the foods are delivered directly to the customer, for example from a warehouse located somewhere else, without ever being physically in your possession. As a food business operator, you are responsible for ensuring that the food products ending up with the consumer are safe and that sufficient and correct information is provided on them. The next section contains instructions on the minimum steps you need to take when you wish to set up an online shop or sell foodstuffs by some other means of distance selling.
Before you start food sales by distance selling, take care of at least the following:
1. Register your company with the food control authority
If you wish to start a food distance selling business, you must be entered in the register maintained by your municipality's food control authority. For distance selling, you must register as a food premise four weeks before initiating the activities. You must also register your business if you operate from your home or only sell products, in other words supply foods produced by others, and your business does not involve manufacturing. You must register your business even if you and the foods you are selling are not on the same premises, or the storage and delivery of the products are handled elsewhere. Food supplements are also foods, and you must submit a notification as a food premise if you are selling them.
If you have already registered with the food control authority, you only need to submit a notification of a significant change in your business when you start the distance selling operation.
The notification form is available on the municipality's website or can be obtained from the municipal food control authority. For the contact details of municipalities, click here. The local food control authority will advise and guide you. The food control authority registers the business, which will be subject to regular food control in the future. Both the registration and food control are official activities for which a fee is charged in most cases.
More information on registration
You can also submit the notification of your food business online. Ilppa Environmental health care e-notification service has been launched nationally. On Ilppa web service you can submit a notification of most food and health care sector activities when they are launched or there is an essential change in the activities, of if the business is wound down or the business operator changes. More information on Ilppa (in Finnish).
Primary producers can also engage in distance selling business
A primary producer can also offer their products through a distance selling business. A primary production notification is sufficient if the producer sells small quantities of their primary produce directly to consumers. The farm often already is registered with the local food control authority. In this case, it is sufficient to notify the supervisory authority in writing of your intention to start a distance selling business. All primary products are not suitable for distance selling. For example, raw milk must always be collected from the dairy farm by the customer. A short online course (in Finnish) is available on small-scale primary production business. The course contains more information on the possibilities and conditions for engaging in this business. You can also contact your local supervisory authority for advice.
2. Find out if you need to submit notifications or apply for licences and authorisations for the products to be sold.
As a rule, no licence or notifications are needed for the sale of foodstuffs. An exception to this rule are novel foods, for which an authorisation is required, as well as food supplements, foods reinforced with vitamins and/or minerals, infant formulae and dietary foods for special medical purposes, which must be notified to the Finnish Food Authority.
Novel foods
If a product has not been used as human food to a significant extent in the EU area before 15 May 1997, it may be regarded as a novel food. To place novel foods on the market, authorisation by the European Commission is needed. Placing an unauthorised novel food on the market is a serious oversight and usually leads to the withdrawal of the product from the market. This is why you should always make sure that selling a product as a food is authorised before placing it on the market. You should pay particular attention to this if you import foods from non-EU countries. Domestic products, such as wild plants and mushrooms, may also be novel foods if you cannot prove that they have sufficient usage history.
Food supplements, reinforced foods, infant formulae and dietary foods for special medical purposes
If you manufacture, have manufactured or import food supplements, foods reinforced with vitamins and/or minerals, infant formulae or dietary foods for special medical purposes, you must notify your products to the Finnish Food Authority. If you only sell these products, it is enough for you to have documentation provided by another operator showing that the notifications have been submitted correctly. Please note that receiving notifications does not mean that the products have been approved by the Finnish Food Authority as compliant with food regulations. Responsibility for the safety and compliance of products always rests with the food business operator.
3. Make an own-check plan.
Before you start your distance selling business, you must make an own-check plan for it. This is the risk management system of your business. It means that you plan in advance how you will manage the risks associated with your business and how you will rectify any defects. The more extensive and risk-prone your food business is, the stricter the requirements placed on your risk management system.
For example, own-check ensures that the storage temperatures and times of the foods are appropriate and that food is handled hygienically at all stages. You also plan how you will ensure that the customer receives adequate and correct information on the products. All foodstuffs you purchase and market must also be traceable. Food traceability is a key part of own-checks. Own-checks also involve some accounting requirements.
4. Also comply with legal requirements in distance selling business.
The following section sums up some key issues you should take into account in distance selling.
Information provided on food products and marketing
As a founder of a distance selling business, you are responsible for ensuring that the consumer is provided with correct and sufficient information on the products you sell. In online shops, the responsibility for providing this information rests with the operator who has registered the shop's domain name. Responsibility for product labelling belongs to the operator under whose name the food is sold. However, you should remember that even if you are not responsible for product labelling, you still have a duty to ensure that you do not sell products with incomplete or incorrect information.
A distance selling business must ensure that the consumer is provided with enough information to make a purchase decision on the foodstuffs sold through distance selling. All mandatory information must be provided on foodstuffs in distance selling. The mandatory information partly differs depending on whether you are selling a pre-packed or non-prepacked food product. Some products are also subject to specific labelling requirements. These products include food supplements, infant formulae and dietary foods for special medical purposes. For more information on special rules applicable to certain groups of foodstuffs, see Table 1 in the Food Information Guide.
In distance selling, mandatory food information on prepacked foods must primarily be provided in Finnish and Swedish in Finland. Do not sell products without Finnish and Swedish labels.
Remember that the medicinal marketing of foods is always prohibited: you must not give the impression that a food will prevent, treat or cure a disease. Also make sure that you only use permitted nutrition and health claims. You must not mislead consumers.
The consumer may not incur additional costs for obtaining mandatory food information.
More information on information on foods sold through distance selling.
Hygienic handling of products and temperature control
Ensure that the products are handled, stored and transported hygienically. Protect the products and keep the facilities clean. Make every effort to ensure that the food will not be contaminated with microbes or ingredients that the product is not supposed to contain. For example, gluten-free products should be stored separately from products containing gluten.
Store each product at a temperature that is appropriate for it. To ensure the safety of perishable foods, in particular, make sure that they are kept at a low enough temperature all the way to the consumer.
More information on hygienic working practices
Contact materials
Ensure that all materials coming into contact with food, including packaging materials, are food safe and suitable for the intended use. This way, you can make sure that no harmful chemicals are introduced into the food. When the material bears the bowl and fork symbol, you know that it is suitable for food use.
There may be some restrictions to using the material, for example regarding temperature, fat content or acidity of the food, or the duration of the material's use. In this case, the bowl and fork symbol or other label alone are not always sufficient to indicate the type of food contact the material is suitable for. If the sales description or instructions for use do not indicate the intended use or conditions of use, contact the material supplier for information on its suitability, especially in case of materials and supplies that come into contact with fatty, acidic and hot food products.
More information on food contact materials
Traceability and recalls
It must be possible to trace foodstuffs and their raw materials at each stage of production, manufacturing, and distribution. Under the law, the seller of foods is also responsible for traceability. In practice, you must be able to show where the batch of raw materials or other products came from and where the consignment was delivered. You must additionally know when the food was purchased and delivered.
Also make sure you know what to do if you know or suspect that a foodstuff you are selling is not safe. If the food is not safe and has already ended up with the consumers, the product must be withdrawn from the market (recalled), the municipal authority and the Finnish Food Authority must be notified of the recall and, if necessary, consumers must be informed of the defect in the product and the reason for the recall as well as the manner in which the products should be returned (such as returned to the place of purchase). This situation may arise, for example, if the product contains an allergenic substance not indicated in the food information.
More information on traceability and recalls
Other legal requirements
Please note that in addition to food legislation, you must also comply with the requirements laid down in other legislation in distance selling of foods.
For example, you must comply with the requirements of consumer protection legislation. Consumer protection legislation contains provisions on the information that must be provided to consumers when they are selecting or purchasing a product.
The consumer has the right to cancel an order made through distance selling, such as in an online shop, within 14 days of receiving the goods. If the order concerns a service, it must be cancelled within 14 days of concluding the service contract. If the consumer does not have the right to cancel the purchase or order, they must be informed of this in advance.
For more information on consumer protection legislation, visit the website of the Finnish Competition and Consumer Authority.
In compliance with the requirements laid down in the Information Society Code, an online shop must indicate the company's name, geographical address, e-mail address and other details that can be used to contact it.